26th January 2017, Berlin (Lecture Hall Ruin, Charité Berlin)
Welcome and Introduction
Andreas Tüxen, Partner/Attorney/Notary, Luther, Berlin and his colleague York von Massenbach, Attorney, Luther, London welcomed the panelists, event partners and the auditorium. The event location "Berlin" was chosen again on purpose – as it might become the most important startup city in Europe shortly.
Event partners:
A couple of well-known companies and VCs supported the event including:
Orange Growth Capital
The venture capital firm Orange Growth Capital is a financial technology (FinTech) investment firm founded in 2013 which invests in high growth companies primary in EMEA and Asia. Their investments range from EUR 250k to EUR 10 million over the lifetime of the company, which typically would represent a minority stake. Orange Growth Capital operates from offices in London and Amsterdam.
Commerz Ventures
Commerz Ventures – founded in 2014 – operates as the corporate venture capital fund of Commerzbank Group. It backs early- and growth-stage companies in the financial services and insurance sectors, starting at Series A. The initial investment size ranges from EUR 2 million to EUR 10 million. Europe, Israel, and the USA are their primary areas of investment, although they do work with companies across the globe.
e.ventures
Founded in 1998 – e.ventures is a global venture capital firm backing internet and software founders. It runs offices in San Francisco, Hamburg, Berlin, Tokyo, Sao Paulo and Beijing.
Minimax VIKING
Minimax VIKING is a large international operating fire protection group. Since the fusion of Minimax and VIKING the group became one of the largest players in its branch.
MVM Life Science Partners LLP
Founded in 1997 – MVM manages over $700 million over several funds, including the UK Medical Ventures Fund (1998), the MVM International Life Sciences Fund (2001), the MVM Fund III (2008) and the MVM IV (2015). The latest fund totals more than $ 200 million. MVM invests broadly across the healthcare sector, including biotechnology, pharmaceuticals, medical technology, diagnostics etc. The company maintains offices in Boston and London.
Redline Capital Management
REDLINE is a global venture capital and growth equity fund investing in fast-growing companies with differentiated technologies across North America, Europe and Israel. The fund provides venture and growth capital for entrepreneurs who are transforming industries. The investments are focused on security and data, enterprise software, internet and cloud, FinTech and e-commerce, AI and robotics and life science technologies.
Redstone Digital
REDSTONE is a Berlin venture capital firm providing VC management services and market analysis services for investors like Berliner Volksbank Ventures, Vogel Ventures, Vogel Business Media, family offices and KPMG Capital. With its funds and experience it provides funding and advice for well selected startups matching the criteria of the managed VC funds.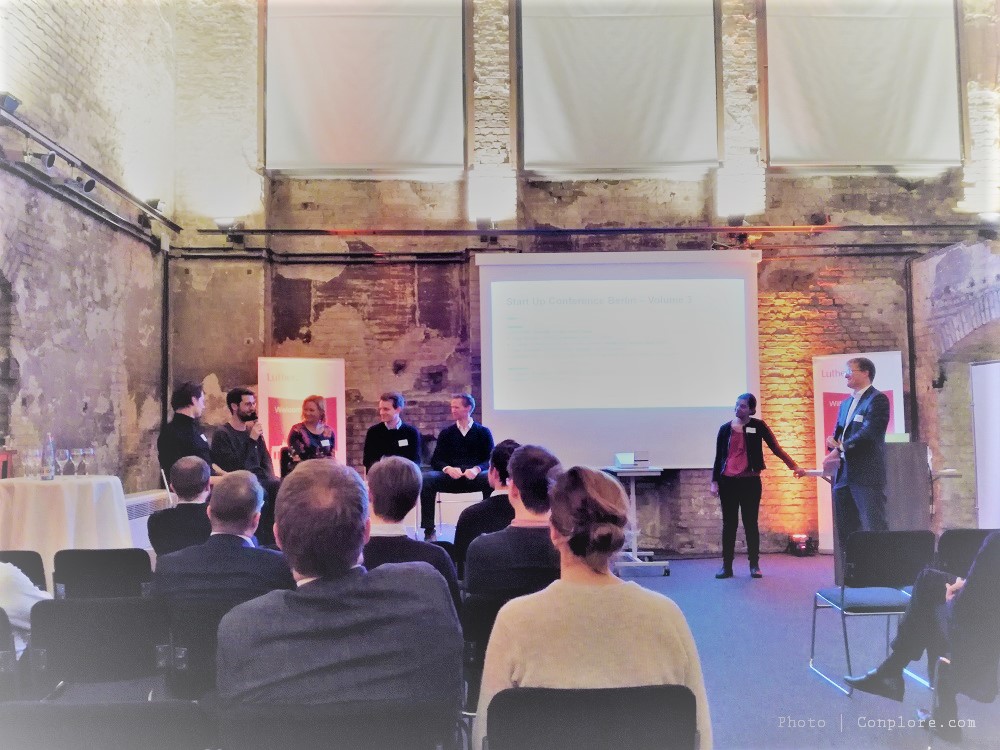 Panel 1 – Start-up Conference Berlin Vol. 3
Piotr Pisarz, Orange Growth Capital, Tobias Tschötsch, Contorion, Marika af Enehjelm, Minimax Viking, Sebastian Seifert, barzahlen.de, Heiko Schwender, CommerzVentures
Panel I – Tech bubble, VC trends and operational challenges with B2B solutions
The moderators Videesha Kunkulagunta, Principal, Redstone Digital GmbH and Andreas Tüxen, Partner, Luther opened the panel. They raised questions like "Do we approach a tech bubble?", inquired trends in VC financing and asked for operational challenges when developing products and services in the B2B sector.
Heiko Schwender, Senior Investment Manager at Commerz Ventures, sees a high liquidity in the market, but not a tech bubble yet. Piotr Pisarz, Associate at Orange Growth Capital, agreed. According to him, there would be many Series A investments – Series B would be more difficult. Tobias Tschötsch, Founder & Managing Director of Contorion, states "(Tech bubble?) It's the opposite … It's quiet hard work to get e-commerce funded." Contorion, an online shop for armamentarium and industrial supplies, had won Kärcher as an investor. Sebastian Seifert, Co-Founder & Managing Director at Barzahlen.de/Cash Payment Solutions GmbH, who – thanks to a EUR 11.5 million funding – does not need more capital at the moment, stated "We are still lacking VC … there is not enough courage."
"This market (finance sector) is currently under disruption."

(Sebastian Seifert, barzahlen.de)
The experts revealed a couple of trending VC topics: Heiko Schwender, Senior Investment Manager at Commerz Ventures, described in vogue FinTech solutions in general but especially for SMEs, InsuranceTech innovations benefitting from now fastly established VCs in the insurance sector and solutions for underserved customers. FinTech expert Piotr Pisarz remarked: "Simple business models will fail."
In contrast, combining new technologies with topics like financial ratings in complex manners would become more important.
Tobias Tschötsch and Dr. Marika af Enehjelm, Executive Director Innovation Management at Minimax Viking GmbH and former president of the Finnish VC association, agreed: The B2B market – compared to the B2C market – has backlog demand. An example for this – user interfaces must be intensively developed in the background without stressing end users with complex technology.
Related to a question about operational challenges when developing solutions for the B2B sector Tobias Tschötsch identified the customer diversity as a big challenge – it would be much bigger than in the B2C segment. Sebastian Seifert gave another example: His company is highly B2B orientated and works with E.ON and 700 further corporate clients, implementing cash payment solutions in corporate structures.
One mayor B2B problem in this context? They had to wait two years to implement their solution at E.ON … The long lead times would be a problem and a chance at the same time. Value is generated and decisions for one solution are made in the long-term. Heiko Schwender saw another big challenge in the timing of market launch of B2B solutions – installing the sales team in the right period etc.
Andreas Tüxen asked why Series B round financing is still significantly more difficult than Series A funding. Heiko Schwender explained that it is rather difficult to find new investors in the 2nd round – the reason why existing investors must be convinced again. Piotr Pisarz underlined the importance of growth for startups in this context. Often growth expectations are too high.
Last but not least – the experts opinion on the BREXIT. For most of the startups and VCs it would be more or less a passporting problem and – compared to established corporates – startups usually would adopt much faster and easier to new conditions. BREXIT? Nothing is as bad as it looks…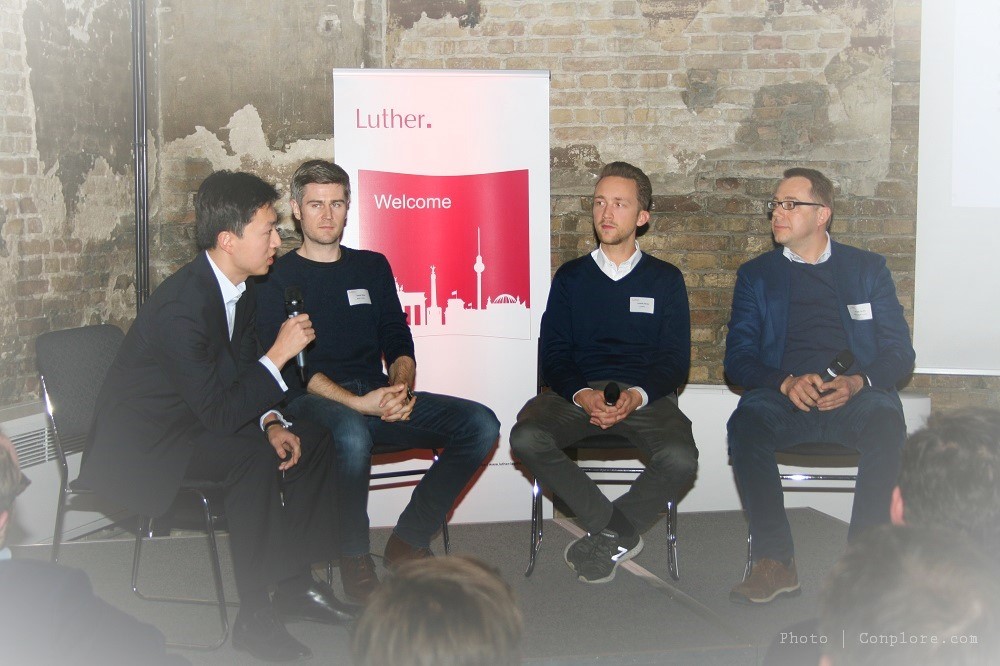 Panel 2 – Start-up Conference Berlin Volume 3
Kevin Cheng, MVM Life Science Partners, Claude Ritter, Book a Tiger, Jonathan Becker, e.ventures, Michael Hecker, Redline Capital
Panel II – Adaption of VCs to market trends and new business models + characteristics of great teams
How do the VCs adapt to current market trends and new business models?
"Everything that is connected to the cloud …"

(Dr. Michael Hecker)
Dr. Michael Hecker, Managing Director at Redline Capital Management, exemplified their focus on cloud based business models. If possible, he recommended to take the chance for a big Series A funding as Series B funding would not get easier. In general, he forecasted, that the investment sums will increase. We would still be at the beginning of the internet age. He recited Jeff Bezos' famous credo:
"It's still day one."

(Jeff Bezos, Amazon CEO)
Claude Ritter, Co-Founder and CMO at BOOK A TIGER/Partner at Cavalry Ventures,
an early stage venture fund, saw B2B topics being in the centre stage. In line with this trend: Seven out of eight of his investments are B2B.
Andreas Tüxen called blockchain investments into play – like Neufund in Berlin, which is building a blockchain-based and investor-directed platform which bridges the world of cryptocurrency and equity. Claude Ritter found this to be an interesting marketing experiment… Jonathan Becker, Vice President at e.ventures, agrees "Interesting … but I don't think it's competitive."
"Great companies can come from anywhere."

(Jonathan Becker)
Videesha Kunkulagunta asked Jonathan Becker for experiences from being in multiple locations worldwide including Silicon Valley, Europe and Asia. He explained that great startups can come from anywhere. Their aim is to build global companies – that is why they recommend their startups to go to the US as well.
Kevin Cheng, Partner at MVM Life Science Partners, recommended to family offices to be much more active, private equity type of investments are trending. The experts saw the chances for higher VC fundings and higher risk affinity in the US – the underlying reason: The higher chances of a bigger US-market.
Jonathan Becker saw corporates simultaneously investing in his fund and corporate funds – with the latter they would pursue highly targeted investments,with his fund they would spread their investments.
"Great sort of individuals attract other great individuals."

(Claude Ritter)
"Don't try to lie … we do our due diligence."

(Kevin Cheng)
Videesha Kunkulagunta pointed out that great teams are an important startup selection criteria for VCs. But what does a great team look like? Jonathan Becker said, it would really depend on the business. He and Claude Ritter both found it most important to get along with the people. Dr. Michael Hecker had seen studies about controversial teams that perform better as reasonable ones. Serial entrepreneurs would have a big advantage – funding experience.
At the end of the session, the panelist reflected, what kind of startup they would found today. The auditorium gave a big hand to the panelists and moderators.
A joined Q&A – session with all panelists and open networking aligned by finger food and music completed the event.
About Luther Rechtsanwaltsgesellschaft mbH:
Luther Rechtsanwaltsgesellschaft mbH >> advises in all areas of business law. Its clients include medium-sized companies and large corporations, investors as well as the public sector.
Offices: Berlin, Brussels, Cologne, Dusseldorf, Essen, Frankfurt a.M., Hamburg, Hanover, Leipzig, London, Luxembourg, Munich, Shanghai, Singapore, Stuttgart, Yangon