European medtech companies are under pressure. Even though the overall business outlook of the industry is positive for 2013, effective price execution is a major challenge in fighting strong market dynamics. Yet medtech companies don't seem prepared to tackle this challenge. And among others, they will need to develop and implement defendable price structures and value-based pricing strategies. These are the key findings of the MedTech Barometer 2013*, conducted each year by global strategy and marketing consultancy Simon-Kucher & Partners and presented at the company's annual European Medtech Strategy Forum in Amsterdam. Over 60 top-level decision makers from the world's leading medical technology companies were asked in all key sub-sectors about the commercial trends and challenges they face. Due to the limited growth opportunities in Europe, competitors are attacking the most lucrative accounts. On top of this, centralized procurement continues to put pressure on prices and weakens the bargaining power of the industry even more.
Business outlook: Slowly back to normal
Despite obvious challenges, overall business expectations for the medical technology sector in Europe are positive for 2013: About 40 percent of industry experts believe that 2013 will be a better year than 2012. The same percentage forecasts a stable business outlook; only the remaining 20 percent are pessimistic. Generally speaking, representatives are optimistic that the pace, new business areas and products will partially compensate for the persisting economic downturn. In other words, overall growth targets are in the same (moderate) ballpark as in 2012.
Price pressure makes the market nervous
Price pressure is an ongoing topic in the industry. Pressure from procurement and fierce competitors are key commercial challenges for medtech companies, resulting in increasing price pressure. In addition, the growing price aggressiveness of smaller players is starting to make established companies feel uncomfortable. Companies have to be careful that their market prices don't get driven down. It's up to them to make sure the market is respecting the product value they offer. Reimbursement is still an important challenge, but to a lesser extent than it was last year.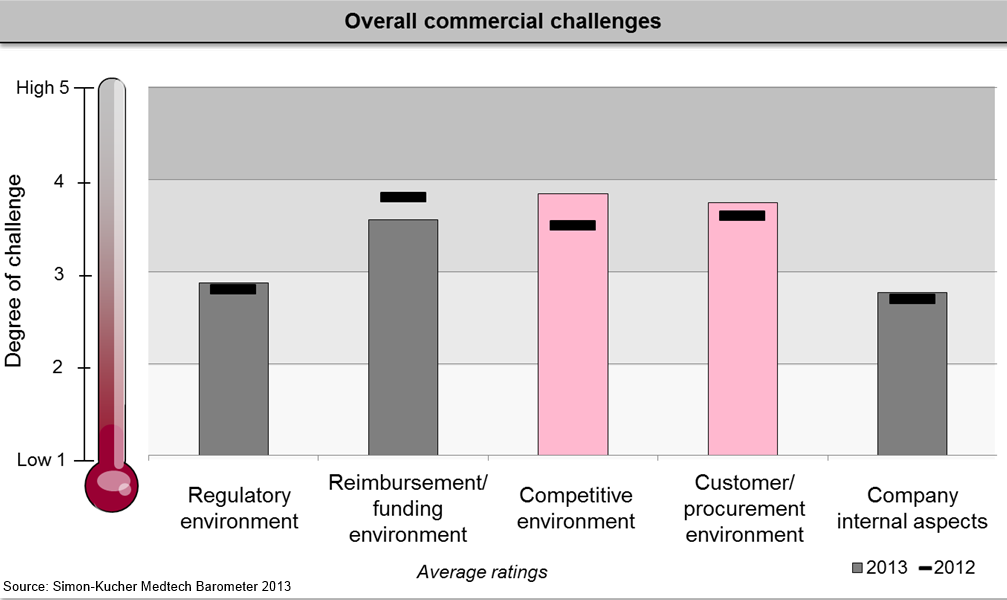 The competitive environment is regarded to be the major commercial challenge in 2013.
Defendable pricing structures need to be put on the agenda
Study respondents are aware of the fact that they need to become active if they want to persevere in this market environment. Enhancing sales effectiveness is most frequently named, ahead of other factors, as the major internal challenge to be faced in 2013. Ranked second, respondents name the challenge of effectively managing product prices, which involves finding the right trade-off between value, service and price. When analyzing levers such as managing price erosion or obtaining price premiums for new products, the research results reflect how much managers are worrying about the quality of their price execution. Many are concerned that they will be unable to successfully implement annual price increases. This applies even more to companies selling directly to hospitals than to those selling directly to retailers. What's more, the whole range of companies feel extremely vulnerable in price execution when it comes to "big deals", be it through tenders, contract agreements with Group Purchasing Organizations (GPOs) or chains.
Under the current economic circumstances, medtech companies definitely have to pull other levers if they want to get ahead of their competitors and thrive in the current harsh context. Developing and implementing defendable price structures is therefore a major challenge for the industry's players. Even though most companies have formal training programs for the sales force in place, they often don't fully utilize the potential of value-based pricing approaches. The most striking result of our research is how insufficiently medtech companies are addressing most key performance levers in pricing and how they are lacking viable measures to correct this. Smarter price execution might not be the magic formula, but it's certainly a requirement to pave a medtech company's way to success. It's just a matter of getting started – before it's too late and the damage is irreparable.
*About the MedTech Barometer 2013
The MedTech Barometer 2013 reveals commercial trends and challenges in the medical technology industry. The over 60 survey respondents come from a pool of C-level executives, regional and BU heads, and senior functional executives representing all key sub-sectors including consumables, equipment, devices, diagnostics and dental. The management summary is available upon request.